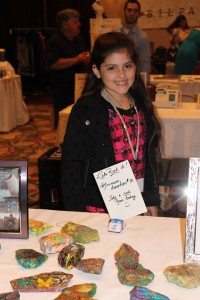 Seven-year-old Alyssa McGarry is what I call a "natural" Bigger Game Player.
Her Facebook page quickly sums up her Bigger Game: "My name is Alyssa, I'm seven and I paint rocks to raise money for non-profits."
I love Alyssa's clarity, and at such a young age!
Alyssa started attending her Mom's Live Your Legacy Summits and told her Mom she wanted to help the charities that were featured at the Summit.
Alyssa has always loved to draw and paint and she came up with the idea to gather rocks from her yard and paint them. She thought that just maybe people at the Summit would buy them and she could give that money to the non-profits.
So, My Charity Rocks was born!
To date she has raised $900 in sales by painting and selling her colorful rocks at the Live Your Legacy Summits (which, needless to say, is a Bigger Game itself!). Alyssa's rocks get better and better every time as she grows her artistic talent and creations. All of them are her designs and ideas. And the sparkled ones are her favorite!
I congratulate and honor Alyssa – she is an inspiration and truly a Bigger Game Player. And such a great example to remind us that the size of the Game we play doesn't matter – what matters is that we are compelled and having an impact on our world around us.
Please visit Alyssa's Facebook page and "like" her page!
Namaste-
Rick