Book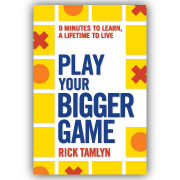 Play Your Bigger Game provides a philosophy and methodology that you can learn in just nine minutes, and it will serve you for the rest of your life. Self-empowerment expert Rick Tamlyn believes that life is all made up, so why not make it a game of your own design—one that excites you, challenges you, and allows you to fully express your talents and creativity?
When you play your bigger game, you create a life that is dynamic, engaging, and wildly inspiring. This book is your antidote to inertia—you will never feel "stuck" again. Each and every day, it will inspire and motivate you to keep stretching, achieving, and thriving above and beyond any boundaries or limitations that might have held you back in the past. Play Your Bigger Game offers pathways, tools, and inspiring stories to feed the hunger in your soul, light the fires of your imagination, and build a fulfilling life and a lasting legacy.
If you long to . . .
have a more positive impact within your family, your work, your community, or organization
make a change, but you aren't sure what sort of change
create meaningful work
take responsibility and direct your destiny
make a difference or leave a legacy
. . . then you should join thousands of others around the world and play your bigger game!
"This remarkable new book, Play Your Bigger Game, is a powerful and brilliant piece of work that will inspire you to live and work in a way that is dynamic and fulfilling. If you are interested in making a difference with your life, if you are committed to living a life of meaning, if you are longing to live your life to the absolute fullest, Play Your Bigger Game is a must read. I have been deeply touched by the work of Rick Tamlyn. He is absolute magic. His message is breathing new life into people and organizations all around the world. Buy this book, read it and thrive, and share it with everyone everywhere!"
"In this accessible and delightful book, author Rick Tamlyn teaches us that making a difference can be simple, playful and fun. Tamlyn stimulates, entices, and inspires the Bigger Game player in each of us. Play Your Bigger Game is written for that place in each of us that hungers to contribute."
"The Bigger Game is an elegant and effective way to take ideas, dreams, and intangible goals and make them come alive and flourish with purpose. Rick Tamlyn is on to something extraordinary."
"We were fortunate to have Rick present the Bigger Game to our internal team. He was able to shift our mindset regarding how we work together, recognize that we must play our game every day, and challenged us to see how our game would impact the organization. We still receive comments on how Rick's message strongly resonated with our leaders on a professional and personal level."
"The Bigger Game model continues to percolate in our church leadership and congregational life. It has given us a context, language, and process to use as our church continues to be a dynamic presence, resource, and catalyst in our community and in our world. Rick's model fits seamlessly into our church's traditions and supports our belief that our Creator God is still at work and play for good in our lives. I recommend this book to all houses of worship."
"Time and time again the Bigger Game Board had my team innovating its way to success. Whenever we got stuck with our clients we just asked 'so where are we on the Bigger Game Board?' Instantly someone in the team would have an 'aha!' moment and we were off and running again. The Bigger Game is a great team builder and team activator for any corporate team."

The Bigger Game Reference Card is a two-sided laminated guide. The Bigger Game Board is on the front side, and hints and tips to help keep you focused on your Bigger Game can be found on the backside.
6-3/4" x 8" laminated card stock
$ 20.00 (10 Bigger Game Reference Cards per packet)