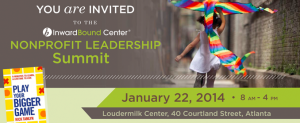 Imagine the day when nonprofits, especially those focused on eliminating poverty, rank among the 'Best Places to Work' — known for their outstanding leadership, and success in reaching their mission.
That's the vision of The InwardBound Center for Nonprofit Leadership, a 501(c)(3) founded by Bigger Game Player Cathy Perry PCC.  She offers culture-changing leadership programs, training, and coaching to nonprofits. .
'We want these leaders to find fulfillment in their work.  And we're counting on them to deliver results,' said Cathy Perry.   'After all, they're on the front lines working to eliminate poverty — on behalf of us all.'
I'm honored and excited to be facilitating Cathy's upcoming daylong Summit on Jan. 22. I'll be sharing the Bigger Game philosophy and methodology, and there will also be leadership team case studies, and more.
The Summit is open to nonprofit leaders, funders and coaches. I hope to see you there! Click here for additional information, tickets and sponsor opportunities.
Namaste-
Rick