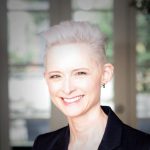 Johanne Greenwood
Nashville, TN
johanne.work@outlook.com
www.johannegreenwood.com
I've always wanted to do things better. I love software and product development and the game of growing a business but hate to see projects over budget, late, not satisfying customers, and colleagues who are stressed and miserable. There has to be a better way!

My difference? I'm passionate about the combination of two things that don't often coincide:
• proven lean and agile methods applied in all areas of business
• collective leadership and social intelligence built in to my management style and methods
I use Bigger Game as part of my approach with my teams to foster psychological safety, equanimity in the face of risk, a stronger sense of the intersection between personal goals and business goals, and broader thinking and increased ownership about how to accomplish desired outcomes.

I've held VP and Director level responsibility for marketing, sales coaching, R&D, process improvement and services operations. I've worked with customers and teams across the US, UK, France, Spain, Italy, Germany, Netherlands, Finland, Australia, India, Hong Kong and Singapore. I've delivered major award-winning programs for a $24 billion company and had some fantastic startup experiences. I am a Certified Scrum Master and Scrum Product Owner and a Project Management Professional.

I'm eager for the next challenge. If you are curious about what Bigger Game could do in your business or in your student group, please get in touch!